WARNING – MINOR SPOILERS

So I just got back from seeing Inglourious Basterds, Quentin Tarantino's new film, and I have to say that this was above and beyond any film he has done in the past. Because it's a Tarantino film, you go into the theater knowing you are going to get a great movie, but this one was so beautiful, and so well put together, that it deserved the ovation it received at the end.




The movie takes place in the 1940's, during Nazi controlled France in WWII. A group of Jewish-American soldiers, known as "The Basterds" are put together by Lt. Aldo Raine (Brad Pitt), and put together for one reason, and one reason only, and that's "killing Nazi's". And, because they do it so well, the Germans are aware of them. So aware of that that they are embarrassed and they need to stop them.

I can honestly say that in my head, Pitt was going to steal this movie. The trailers gave way that this was going to be his movie, and the rest of the cast would just be background. A combination of the quick lines and that perfect accent made him an amazing person to watch, but this was not his movie. In fact, he the background for me. And I don;t say that with a negative tone. He was fun to watch, but some others made this movie what it was.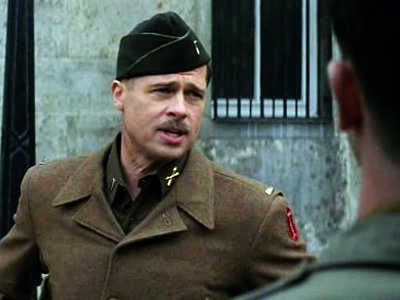 One that had a great, but small role in this movie was Lt. Archie Hicox, played by Michael Fassbender, a primarily TV actor, who made a huge impact for a major motion picture. Lt. Hocox is part of the British army, used for his knowledge of German cinema, to take part in a covert operation and infiltrate the Germans, who seem to really enjoy their film. He seemed to just slide in there and take over the screen with grace, talent, and wit. A very smooth player who fit the movie so well.

And now, on the man of the movie. The person who had amazing lines, and most importantly, made you unsure of how to look at the character. The person I am speaking of is Christoph Waltz. Waltz plays Col. Hans Landa, aka "The Jew Hunter". Brought in specifically to locate, and eradicate, the jewish families that are in hiding in the local French homes. A self proclaimed "detective". One minute you see him as almost fumbling and silly, and the next minute he's sending a chill down your spine. A very calculating, and on the edge of mad, type of person. He has a sense that someone is lying, and he won;t just call their bluff. He will make you sweat it out until you can't take it. He is the epitome of a snake, but a snake in hiding. Waiting to strike at a given reason. Tarantino may have wrote and directed this movie, but Christoph Waltz borrowed it for the night.




As for the film itself, what can I say, it was Tarantino style. But, not all of the way. There were some moments where you almost forgot he was making the film. Whether it was the cinematography and the location they filmed it, or something as simple as using a different camera to film. A lot of this film, and very much in a good way, was not typical. It was refreshing to see some routes not used in a while. But! Because of the way these scenes were shot, when the typical QT came out, it came out with a BANG! The mixture of quietness and flamboyancy went together so well. One scene in particular, and one of the better scenes in the movie, took place in the projectionist booth of a movie theater. There was great moves between the fast camera to the pause, to the fast camera that we all know and love, yet there was camera angle that stayed put, purposely placed so you can take it what just happened.

Some minor issues, so I don't seem like a biased QT fan. Mike Myers. The "character" was needed, but just not the actor. He stuck out like a sore thumb. They used more prosthetics on his face, than they did on some of the Nazi victims. I'm not quite sure how he got in there, but it was too close to all of the characters he has ever played before. There was also some pieces that just didn't sit well with me, as far as some peoples "dual roles" in the movie. I don't want to give away things so go to the forum, and we can discuss it more there.

I'm giving this movie a 4.5 out of 5. I am also going to say it's the best film of the year. Easily. AND, to go two steps further, I bet you will see Tarantino on the list of best director. Get himself an Oscar to put next to his Pulp Fiction one.




THAT'S A BINGO!
---
---