Thanks to our reporters Kelsey and Rose, we have some Iron Man 2 posters from Comic-Con that we will be giving away here on the MovieViral Forum, on Twitter, and on Facebook. Make sure you sign up and/or follow us on each of those sources to maximize your chances of winning. Here is a grainy iPhone picture (sorry) of the poster: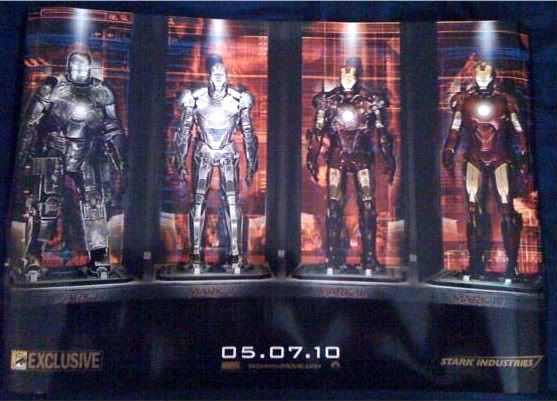 Here's when the giveaways will happen:
Twitter – Monday 8/24 Between 9am-12pm Pacific
Facebook – Wednesday 8/26 Between 12pm-4pm Pacific
Forum – Friday 8/28 – Between 4pm-8pm Pacific
So how do you win? Each giveaway is little different, so read carefully:
Twitter – We'll give away the Iron Man 2 posters to the first four (4) replies to a simple question about the Iron Man sequel. Make sure to use "@MovieViral" when responding to the question.
Facebook – We'll ask four (4) different Iron Man 2 questions throughout the above mentioned period. The first fan to reply to each of those wins the one of the posters.
Forum – I'll ask a question in the above-linked thread, and the first four (4) members to PM me the answer will win the Iron Man 2 poster.
The first person to answer the Twitter and Forum question will also get an additional free poster!
(A choice of assorted Comic-Con posters)
Other rules:
Only one (1) Iron Man poster per person. You will obviously have to be willing to give me your mailing address (we won't use it for any other purpose). Only addresses in the United States are valid. Email me at DanKoelsch[at]MovieViral.com if you have any questions.
Good luck!
---
---