A couple of updates for you coming from two ends of the 2012 world.
First one is from Charlie Frost's blog, ThisIsTheEnd. It is titled "Start Spreading the News" and it shows a couple of IHC posters defaced, as we've seen before, this time being in NY. Here are the pics: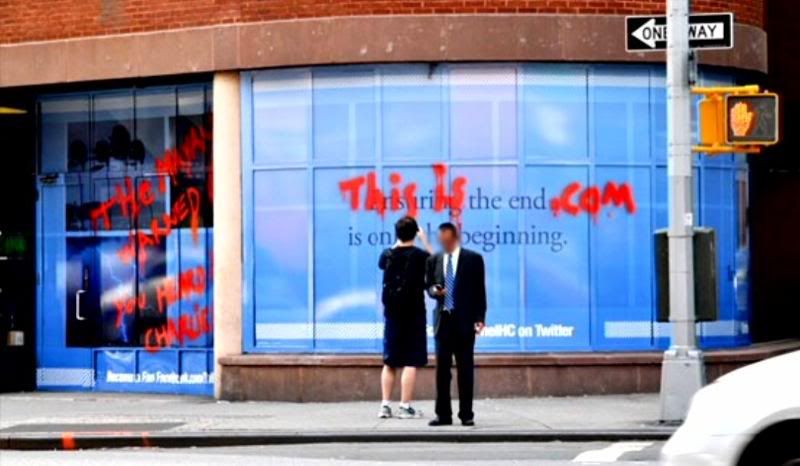 I (as well as many others) also received an email from Dr. Soren Ulfert, Communications Director for the IHC, in regards to their upcoming lottery.
Greetings,

As the Communications Director of the Institute for Human Continuity, I'd like to thank you for taking an active role in preparing yourself for 2012. Please note your ticket is only valid for one person. Therefore, we strongly suggest that you encourage your friends and family to register for lottery numbers at TheIHC.com.

The IHC has uncovered evidence indicating that the disasters of 2012 are both real and unavoidable. We believe with 94% certainty that exactly four years from today, cataclysmic events will devastate our planet and many who inhabit it. December 21, 2012 cannot be ignored.

Though the future is uncertain, there are several things we can and must do to prepare. You have already begun by entering the IHC lottery and visiting our website. In the coming weeks, I will be hosting an online discussion during which I will answer your questions and provide additional knowledge on how you can continue to prepare. You may submit your written questions to me via twitter and email. We will also be accepting video questions and will have more details for you in the coming weeks.

I look forward to receiving your questions and working together to ensure that the end is just the beginning.

Sincerely,

Dr. Sorën Ulfert, PhD
Communications Director
The Institute for Human Continuity
Twitter: sorenulfert
Email: s.ulfert@TheIHC.com
I look forward to this online discussion. Both for my involvement with the IHC Lottery and the Post-2012 Leader, as well as a viral standpoint. This discussion will be another way of reaching out to those involved and bringing them that much closer to what Sony labels "the experience".

Keep you eyes glued to MovieViral and the forum as well for up-to-date coverage of the viral marketing surrounding 2012. Including the above mentioned online discussion with Dr. Ulfret. And, I can almost guarantee that Charlie Frost will have a video question for him.

2012 hits theaters on November 13
---
---