How did we miss this? We've mentioned before the viral happenings surrounding the upcoming horror comedy Zombieland, most notably the clips of Jesse Eisenberg and Woody Harrelson explaining the 47 rules of Zombieland. Well, the folks behind the October film have also introduced a viral site that allows you to actually zombify yourself!


Head on over to
Zombify-Yourself.net
to undergo the change from human to zombie. Once there, follow the steps by uploading a picture of yourself and adding grotesque versions of eyes, noses, mouths, and more to get "in character." It may take time getting used to resizing the different graphics, but once you do, I think you'll have a blast. When you're done, the site provides easy links to Twitter and Facebook so you can share it with your friends.
To me, this site captures the essence of what viral marketing is meant to achieve. It has taken someone like me, who has never been a horror film fan and was not particularly interested in the movie, and turned me into a big time follower. One immediately gets a
Shaun of the Dead
vibe after watching the trailer, which makes me hope this will be a surprise hit this fall.  Plus, with its solid cast of Eisenberg, Harrelson, Emma Stone, and Abigail Breslin, I find myself rooting for
Zombieland's
success come October 15. Check out the work yours truly had done after my trip to the site, and be sure to try it out on your own!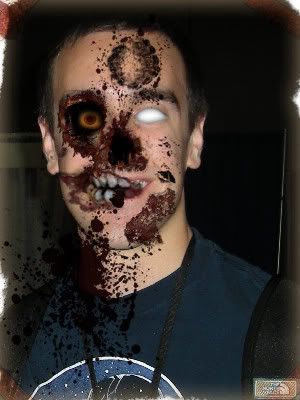 ---
---