We haven't talked much about ABC's LOST here on MovieViral, but they really pioneered the new wave of television viral marketing. Usually this has been done traditionally with interactive ARGs and a narrative, but in August, comedian Paul Scheer joined in on the fun in an unusual way.

Scheer's involvement started at Comic-Con, when he appeared at the LOST panel and unveiled a painting of showrunners Damon Lindeloff and Carlton Cuse hugging a polar bear (seen below). Turns out he has a website, aptly titled DamonCarltonandaPolarBear.com, with 15 more paintings inspired by the show, each by a different artist.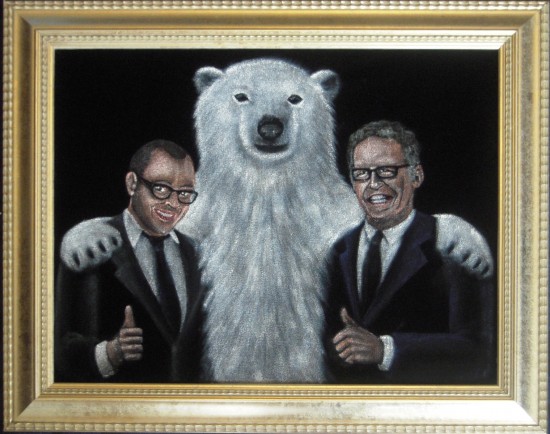 The artwork alone is worth visiting the site, but there are lots of little nods to the show, even down to the links for the pictures, each of which is a different domain name that is a line from the show. Also, according to the Hub, each of the artworks were revealed through an event. Looks like it would have been fun to follow, though if all we got was a look at a painting, I don't know if I'd have made the effort.

Each piece has sold out, but Ronie Midfew Arts is hosting an art show where you can see all 16 artworks at once, as well as 20 new pieces being designed specifically for the event. The show is called "The Lost Underground Art Project", and opens December 15th at Gallery1988 in Los Angeles. Check out the cool flyer below for more details.




And here is Scheer himself talking about the event:


The sixth and final season of LOST premieres in Febuary 2010 on ABC.
---
---