There's been a lot of speculation the last few weeks about when we'll finally see an Iron Man 2 teaser. First, we thought it would premiere in front of Sherlock Holmes, since it's a big film sharing the same star (Robert Downey Jr.), and it's perfect timing. Then we thought it might be tacked on in front of James Cameron's Avatar, another big film around the same time. Well, now we know the answer.

IGN Movies has confirmed that the trailer "will definitely run with the Christmas release of Sherlock Holmes" and debut online on Apple. So, now I have two reasons to see the Guy Ritchie film. The teaser could potentially be helpful in figuring out the supposed "clue" in the Iron Man 2 image we got yesterday, so watch it closely!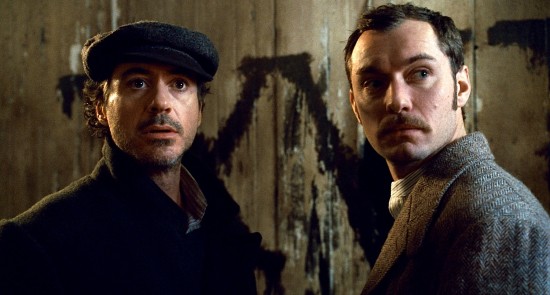 In other Sherlock Holmes news,
Slashfilm
has 37 High Res photos from the film (including the one above), so be sure to check that out.
---
---