ABC's LOST is in the beginning of it's 6th and final season, with the 4th episode The Substitute having aired tonight. This episode was a vast improvement over the last episode, What Kate Does, which felt like a complete filler episode. In this episode we follow the alt reality John Locke, still wheel-chair bound and almost completely hopeless, with one twist: Helen, the girl he met through anger management still there by his side, when in the other alternate reality, she left him a while back because John was obsessed with his con man/father.  The rest of the recap and review after the jump.

This episode starts out with John having a mishap with his wheel chair lift in his van and falling down into the grass. The sprinkler system starts and Locke lays there, seemingly not caring what happens next. Helen comes to his rescue. Next we flash to the Island. Something is moving at a very fast pace throughout out the jungle, presumably Flocke (remember, fake Locke) in his Smoke Monster form, hich is just done beautifully. Flocke stops at a tree and transforms into his more "human" self to talk with Richard. Flocke talks to Richard about why he's on the Island, why Jacob is wrong, and why Richard should join Flocke's side. Richard still being faithful to Jacob, tells him no when Flocke sees a young boy seemingly dressed as an "other" and allows Richard to go free. Flocke goes to the Dharma village that was destroyed by the mercenaries in season 4 and finds a completely miserable Sawyer, who is drinking himself basically to death. He's given up and Flocke knows it. Flocke asks why Sawyer isn't scared that he's talking to a ghost [John Locke], and Sawyer says that he simply just doesn't care. Flocke convinces Sawyer to follow him, claiming he has all of the answers and that everything that has happened will be explained.

In the alt reality John Locke and Helen are planning their wedding when she finds the card Jack gave John in case Locke wanted a consultant. John tells Helen that he had met him in baggage claim and that Jack was a spinal surgeon. Helen called it fate and asked Locke to call him. Faithless, Locke dismissed it and went on to work. At work we meet his manager, Randy, back from season 1, as he degrades Locke and ends up firing him for not going to the conference he was supposed to. Locke walks out to his van and sees that his van wheel-chair ramp is stuck by a huge yellow Hummer H2. Locke eventually starts to pound on the H2, setting off the alarm. Hugo comes up to him, asking him what he's doing. If you remember in my Season 6 LOST Premiere review, I talked about how alt reality Hugo claims to be the "luckiest man in the world. Well, in this episode he's laid back and refers Locke to a temp place he owns. At the temp place, we meet Rose, a passenger on Oceanic 815 and she talks with Locke about choosing the right job, one he can do, and after fighting over it Rose tells Locke that she has terminal cancer, something she was cured of on the Island. He lands a job as a substitute teacher, where he ironically meets Ben Linus, the man who murdered him in the other reality. Here, Linus teaches European History and isn't exactly respected.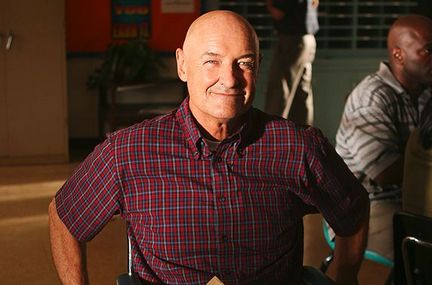 Sawyer follows Flocke, but is suspicious, so he pulls a gun on Flocke. In the middle of this the boy that Flocke seen with Richard re-appears. Sawyer can actually see the boy, and Flocke runs after him. Eventually he meets up with him and the boy says that he can't kill "him" (presumably Sawyer), because it's against the rules. While Flocke is away, Richard comes up to Sawyer and begs Sawyer to go to the Temple with him, but he tells Richard no and goes along with Flocke. Eventually they make it to a cave after Sawyer nearly dies on the way there, and Flocke shows Sawyer writings on the ceilings and walls of the names (from last week's list) and the infamous numbers assigned to each. They are all candidates to be the next protector of the Island, to replace Jacob. Flocke tells Sawyer that Jacob had made sure that he ended up on the island. Next, Flocke gives Sawyer 3 choices. 1) do nothing, 2) become the "protector" of the island like Jacob wanted, 3) join Flocke and go home. Sawyer says that he wants to go home.
Overall this was an amazing episode. The cameos (Kate, Randy, etc.) were great, and everything was wonderfully done, vastly superior to
What Kate Did
. Flocke for me is the most interesting character next to Sawyer right now. I like this new character they gave us and even though he is being represented as evil (see: black vs. white mentioned a few times in the series), we could feel sympathy for him. The best part was the words Ben Linus spoke at the rushed funeral for Locke on the beach, finally showing us the guilty Ben held from murdering John Locke. This was easily one of the best moments of the series, without a doubt. I really enjoyed seeing Helen back too, she was really the last person who understood Locke before the crash, or the last person to care enough to understand. This episode is what we need more of, because I don't want to bounce between 4 stories (alt reality, temple people, claire, Flocke) every other week.
What did you think of the episode? Let us know in the comments below.
---
---