If you've been following our coverage of Repo Men, you'll know that Universal, in conjunction with Wired and Lone Shark Games have launched a real world ARG pitting Artiforgs (people with artificial organs) against Repo Men (employees of Unicare who really want those organs back). Check out the latest developments of the ARG after the jump.

The campaign has officially started, and if you head over to the Wired website, you'll find a dossier on each of the 4 Artiforgs (Alex, Ciji, Usman, and Will) who have fallen behind with their payments.  If the contestants elude the Repo Men for 30 days, they will win $7500. However, if a Repo Man (could be anyone, including you!) finds them, they can collect on the $7500 bounty. Clues will be published on the main website, through Twitter using the tag #repomen, and distributed through other interesting means including the march issue of Wired. You might also want to check out The Union's new mobile website for updates on the move.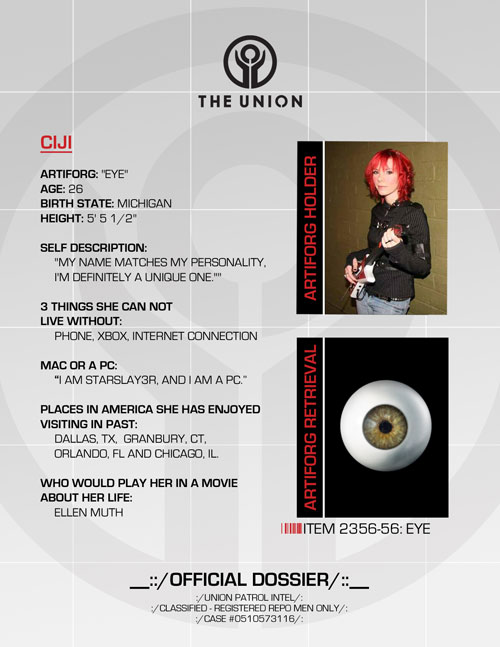 It's also suggested you check out these twitter accounts, according to the website:
You should also follow @theunioncares, @lonesharkgames, @theatavist, @nxthompson, @piercedavid, and @universalpics. These are the people who'll be doling out clues
And though they aren't official, these hunters seem to be rather active: @mescad, @socillion, @menancingpickle @lotushenna, @truebypass, @artiforg, and @pbemaddy — though some people suspect pbemaddy might be a mole for the runners.
I'm liking the mole suggestion! In other Repo Men news, our friends at CHUD have had a special package delivered. Check out the video below of them un-boxing it.


So far I'm really enjoying this ARG even though I'm miles away form it here it in the U.K. but what do you think? Are you taking part in the hunt? Leave you comments below. The film opens March 19th in the States.
---
---