In a stunning new blog post on MNUSpreadsLies.com, Christopher (or George, the non-human) posts his newest entry . . . from the future! This newest post talks of MNU's involvement in other slave-like-labor activities all around the globe. Whether or not the August 7th post was released before it was supposed to be or if they just got the date wrong is yet to be seen. Knowing Sony, the date will be changed soon like this possible mistake never happened.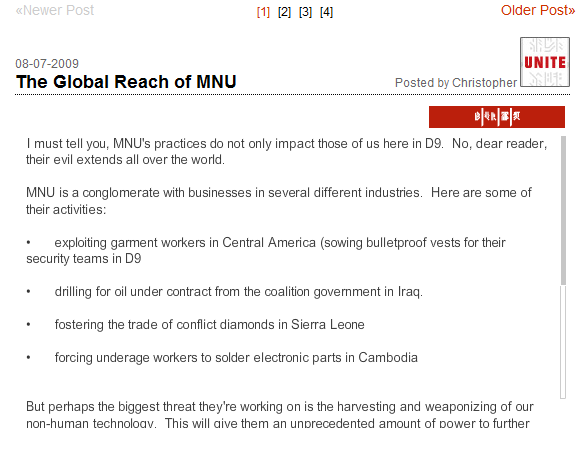 In any case, this new post isn't that stunning on what it reveals. We really don't learn anything that couldn't have been guessed about MNU. I do like Sony's efforts to post weekly or bi-weekly blog entries, but at least try to get the date right.
Tell us what you think: Is this another Sony mistake? Or is District 9 going back to the future?
Posted by Nick Butler, follow him on Twitter. New to the site? Check out the About Us page. Register at the MovieViral.com forum, which is located at www.MovieViral.com/forum.
---
---