ABC'S LOST will be airing its 6th and final season this Tuesday and in the light of that, the show is on a massive advertisement campaign. Being no stranger to  viral campaigns , LOST even won an Emmy for Outstanding Creative Achievement in Interactive Media. The show has had websites like damoncarltonandapolarbear.com and didyouburyit.com adding to the overall experience and giving us probably some of the best fan-made art I've personally ever seen. Well, recently, we've been given more fan-created LOST content like the Real Time Oceanic 815 Crash, a travel site booking Oceanic 815 flights, and the parody song you can watch after the jump.

The music video, a collaboration between popular YouTubers The Fine Brothers and Rhett & Link, asks what every LOST fan dreads: "Are there too many questions to be answered?" Check it out below.


/Film
today reported that
Kayak.com
, a popular travel website, made available to purchase tickets for a flight from Sydney, Australia all the way to Los Angeles, California on the fictional airliner Oceanic. Non-
LOST
fans or fans who need a reminder may wonder what that even means. Oceanic is the airliner that the
LOST
castaways crashed on the island in, Oceanic flight 815 to be exact, which is the same flight number on Kayak. This small fun easter egg (pic below) makes any
LOST
fan happy and even more excited for the season 6 premiere.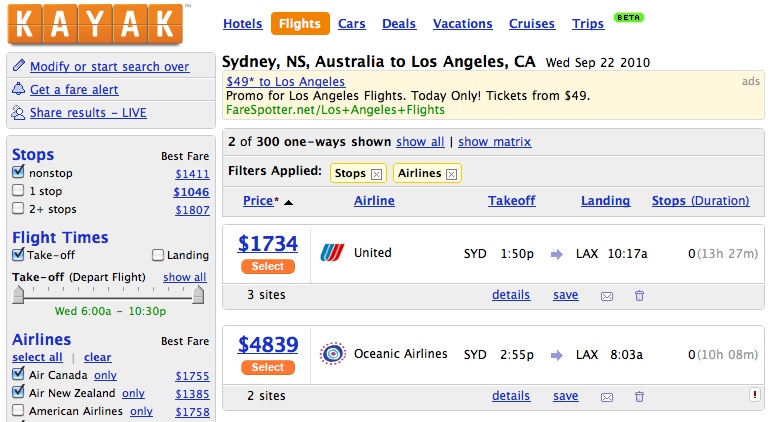 LOST premieres its 6th and final season on February 2nd, 2010 at 7/8c on ABC.
---
---