Last night I went to my first preview/screening of a finished film, The Crazies. While the experience itself was a trip (check out our forum for details on the very "viral" structure of it all), what really matters is the quality of the film itself. So, does The Crazies pack as much fun, gore, and scares as it promises? Or is it just crazy stupid (as a suburban white boy who listens to Enimem would say)? Find out after the jump.

The film is set in the small town of Ogden Marsh, population 1,260. The premise is pretty simple. People in the town start to go crazy, first being very distant and unresponsive, then getting a fever and nose bleed, then killing everyone and anyone they can. The Crazies follows Sheriff David Dutton (Timothy Olyphant) and his wife Judy (Radha Mitchell) as they try to defeat two foes, the crazy town people, and the shoot first, ask questions later military. After a plane goes down in the local creek, something in it contaminates the water supply. We see the first signs of it when a local comes onto the field during a baseball game with a shotgun, and Dutton has to shoot him. Another townsperson kills his wife and child by locking them in the closet and burning the house down (as seen in the Dwyer Creek issue of the comic book).

If that wasn't bad enough, the military has been keeping tabs on the situation and decides to take over the town by taking healthy people away and quarantining the town off from civilization. Judy is mistakingly diagnosed with being sick, so she's taken away. Dutton isn't too happy about this, so he and his trusty deputy (Joe Anderson from Across the Universe), break back into town to save her. As you can imagine, that's when the really f*cked up stuff starts happening. The group then tries to get out of town and to Cedar Rapids, but between the military and the crazies, that's not an easy task.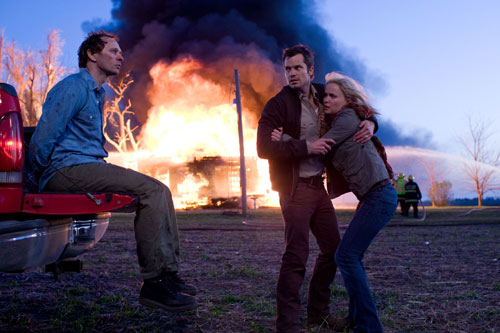 What I really liked about the film is that it feels like a zombie film, but with way scarier zombies, plus military personnel who are dicks (think Day of the Dead). What makes this enemy more dangerous? For one thing, it's plausible. A disease that makes you murderous isn't that big of a leap to imagine. Also, since the people are still alive and have their personalities and memories, they are much smarter and can actually plan murders and hunt better. The film portrays these attributes very well by creating tension-filled scenes where you're not sure what the crazy person is going to do.

The pace the film is very quick, aside from the appropriately peaceful introduction to the town. While the editing, sound effects, and score all enhanced the intense atmosphere, sometimes it felt a bit forced. You get more scared by innocuous sounds than by seeing a Crazy. Also, the quick cuts of the military's observation of the town felt a bit hokey, except at the end where it was pure genius.

There were definitely some funny moments to break the tension, and I liked the main three characters and their progression in the film. The other actors are so-so, though the "crazy" acting was spot on. While it wasn't that original (doesn't help it's a remake), it still feels fresh and gives you what you want. All in all, this was a fun, thrilling ride, and you should definitely stay through the credits to see a little extra footage.

Final Grade: B+
---
---