MTV Splash Page has posted the third of their exclusive Kick-Ass posters, inspired by classic World War II propaganda. This time, Hit Girl joins the stylized images of Kick Ass and Red Mist, which appeared on the Splash Page site earlier in the week. Check out the posters after the break.

For those just tuning in, Kick-Ass is all about average individuals taking up heroic identities and fighting crime, despite not having super powers. These posters, available only at the SXSW film fest this weekend, continue the film's attempt to motivate its audience to "mask up" and become a superhero like the story's characters. If you remember, Iain recently wrote about a Facebook contest where users were encouraged to come up with their own alter egos for a chance to appear in a future Kick-Ass comic.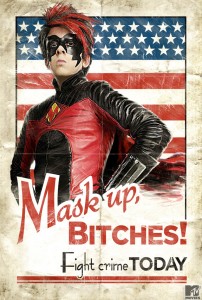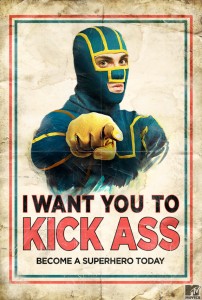 (Click for full size)
These posters effectively continue that trend by evoking retro World War II propaganda posters, which were used to encourage citizens to sign up for military service or help mobilize the homeland. I wouldn't be surprised to see television spots in the next few weeks evoke similar emotional pulls to prospective moviegoers, as the Kick-Ass release date draws closer.
Kick-Ass comes out April 16
th
, and those that have already seen it say it's awesome. Leave your thoughts on the posters and your excitement for the film below.
---
---